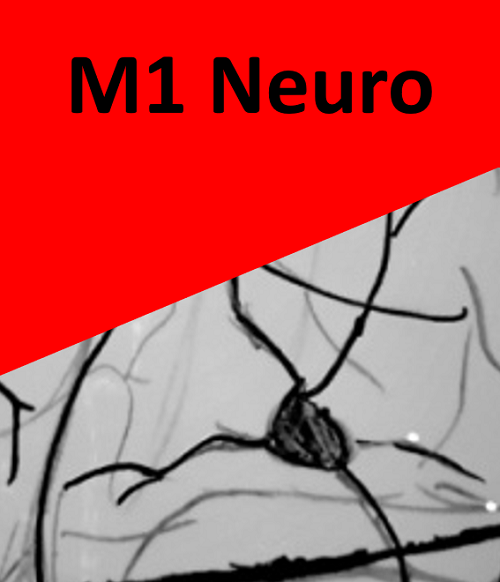 M1 Neuro - Teaching Program
Semester 1 provides solid foundations in the fields of physiology and neurophysiology both in terms of fundamental knowledge and experimental (and analytical) practices. In addition to a 6-week internship, semester 2 offers the student a choice of teaching units allowing him/her to specialize and deepen his/her specific knowledge, from molecular neurobiology to integrated, cognitive, and clinical neurosciences. This format allows the student to prepare more specifically for one of the two Master courses offered in the second year.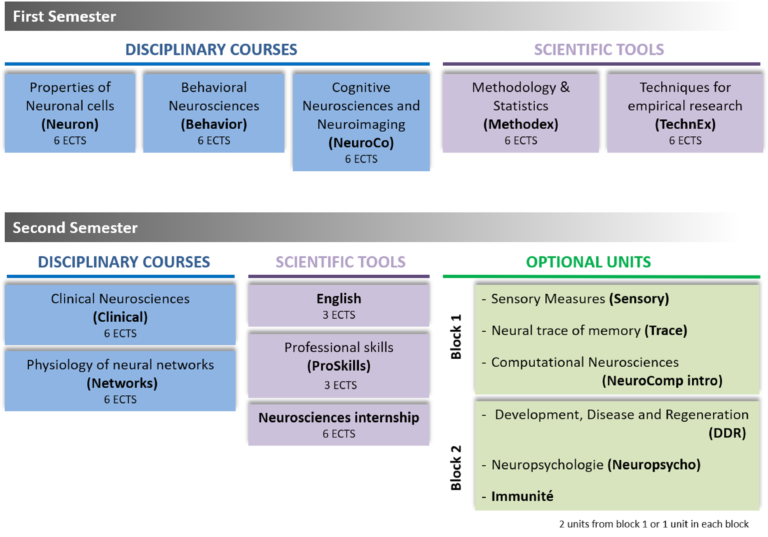 Neuron
Properties of neuronal cells

Understanding the biochemical and electrical specificities of the neuronal cells is the first step toward understanding brain function and information processing. Through lectures and practical courses, this teaching unit will describe neuronal activity (genesis, firing patterns, propagation…), synaptic communication and its plasticity, neuronal integration, neuronal metabolism, neuronal differentiation and synaptogenesis and maintenance of the homeostasis of the nervous system thanks to neuron-glia interaction.
More info: Neuron
Responsable/s: Corine AMAT (corine.amat@univ-lyon1.fr) & Marion RICHARD (marion.richard@univ-lyon1.fr)
Behavior
NeuroCo
MethodEx
Methodology and Statistics
This teaching unit has two main components. The objective of the first component is to introduce the main principles of the scientific approach (epistemology). The second component focuses on basic statistics (parametric/non-parametric, introduction to the software « R »).
Responsable/s:  Philippe BOULINGUEZ (philippe.boulinguez@univ-lyon1.fr) & Claude DUCHAMP (claude.duchamp@univ-lyon1.fr)

TechnEx
Networks
Physiology of Neural Networks
The aim of the unit is to provide an in-depth description of the mechanisms underlying the functioning of neural networks, specifically in relation to cognitive functions. This entails examining cellular mechanisms at the level of the neuron/synapse, as well as macroscopic processes governing inter-regional communication at the whole brain level. Examples from a broad range of functions (learning, sleep, olfaction, action control, language…) will serve to illustrate the main methods for studying the physiology of neural networks in the human and non-human brain.
More info: Networks
Responsable/s: Corine AMAT (corine.amat@univ-lyon1.fr) & Philippe BOULINGUEZ (philippe.boulinguez@univ-lyon1.fr)

Clinical Neurosciences
English
Anglais pour la communication professionnelle niveau 1
English course focusing on oral and written communication in the field of Neurosciences. Training comprises the writing of reports and articles, as well as the presentation and discussion of scientific results, both in formal (e.g. conferences) and informal (e.g. lab meetings) situations.
More info: English
Responsable/s: Nathalie DOURLOT (nathalie.dourlot@univ-lyon1.fr)

ProSkills
Neurosciences internship
Sensory
Sensory Measures

This teaching unit is an introduction on how neurosciences knowledge and methods can be applied to companies.  The unit offers the chance to run an experiment in sensory analysis using eye tracking. Also, the unit benefits of external experts' interventions: from companies and academia, to help students to better understand which tools and answers neurosciences can provide to different sensory analysis domains.
More info: Sensory
Responsable/s: Irene CRISTOFORI (irene.cristofori@univ-lyon1.fr)

Trace
NeuroComp Intro
DDR
Immunité
Neuropsycho